| | | |
| --- | --- | --- |
| | | |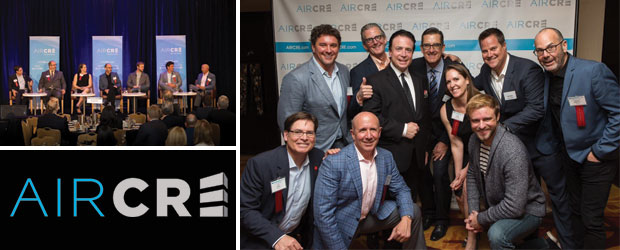 Looking Ahead into Crucial Trends
Shaping CRE in 2019
January 30, 2019 - By Dennis Kaiser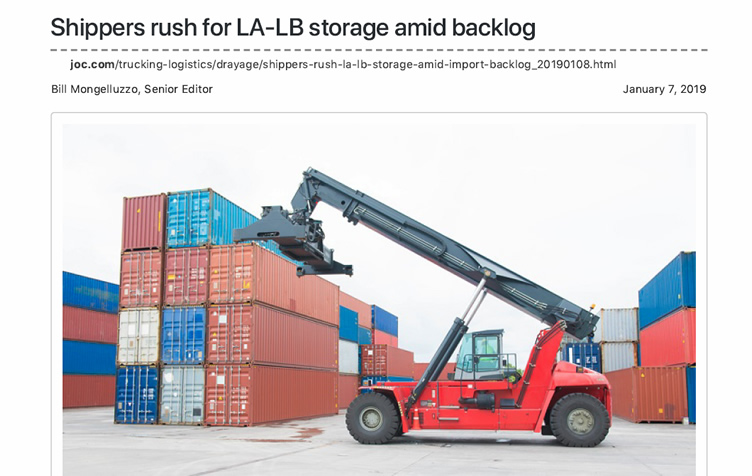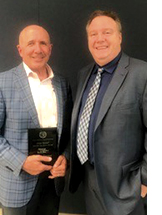 Kevin Turner with Dr. Thomas O'Brien, head of the Global Logistics and Supply Chain Management program

George Marshall Favorite Instructor Award
On July 9, Kevin Turner (Brokerage, Irvine) received the George Marshall Favorite Instructor Award for 2018-2019.

Kevin has been a Global Logistics Specialist (GLS) instructor at California State University Long Beach since 2014. He was one of two recipients of the award, which is based on excellence in teaching in the GLS, mentoring of students, and commitment to the program, and named after George Marshall, an original GLS instructor and industry icon.

CSULB's GLS program is the only one of its kind on the West Coast and has been extremely successful since its debut in 1997, offering innovative delivery methods combined with active class participation and site visits.
Congratulations, Kevin!
Cushman & Wakefield:
Goods Distribution Industry in a State of Disruption
REBUSINESSONLINE - August, 2019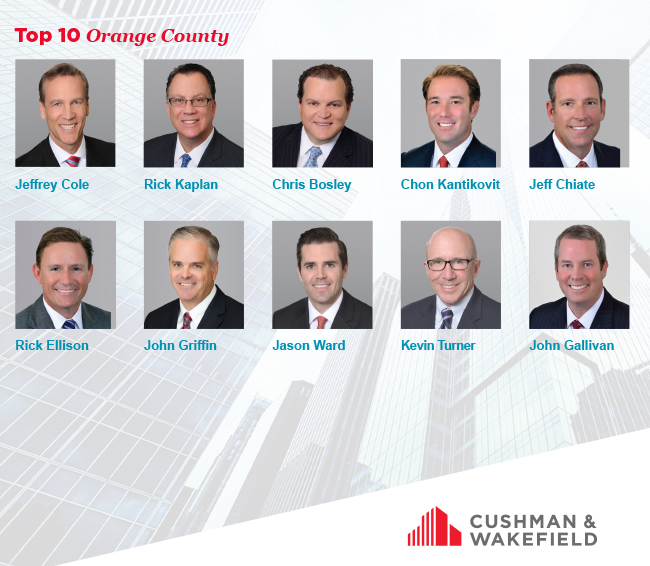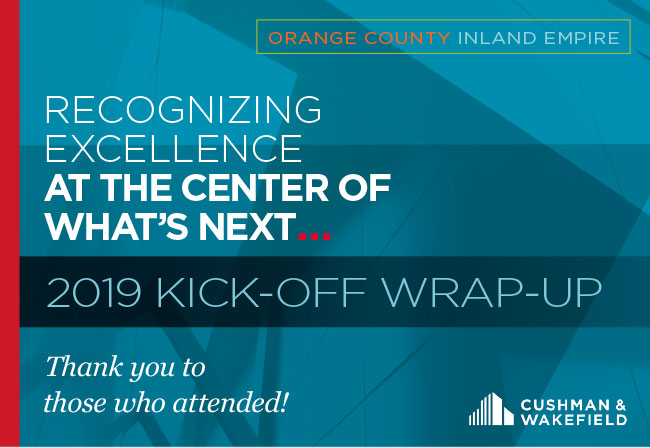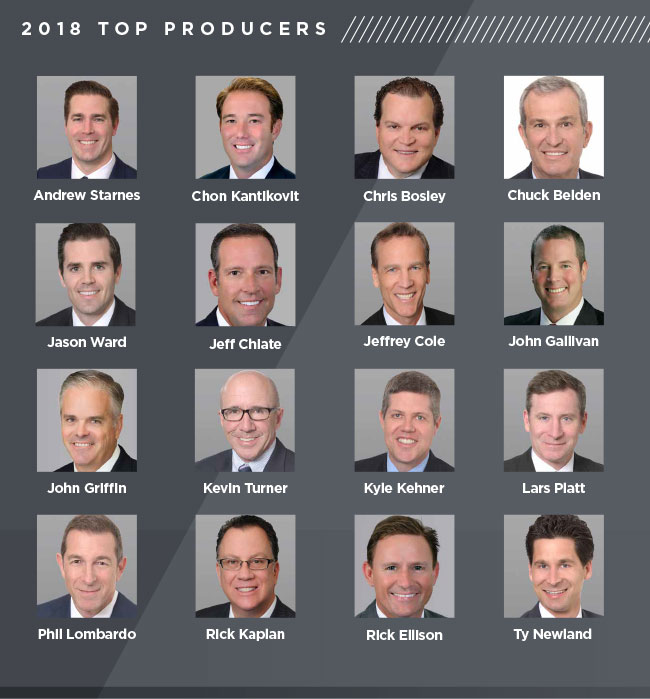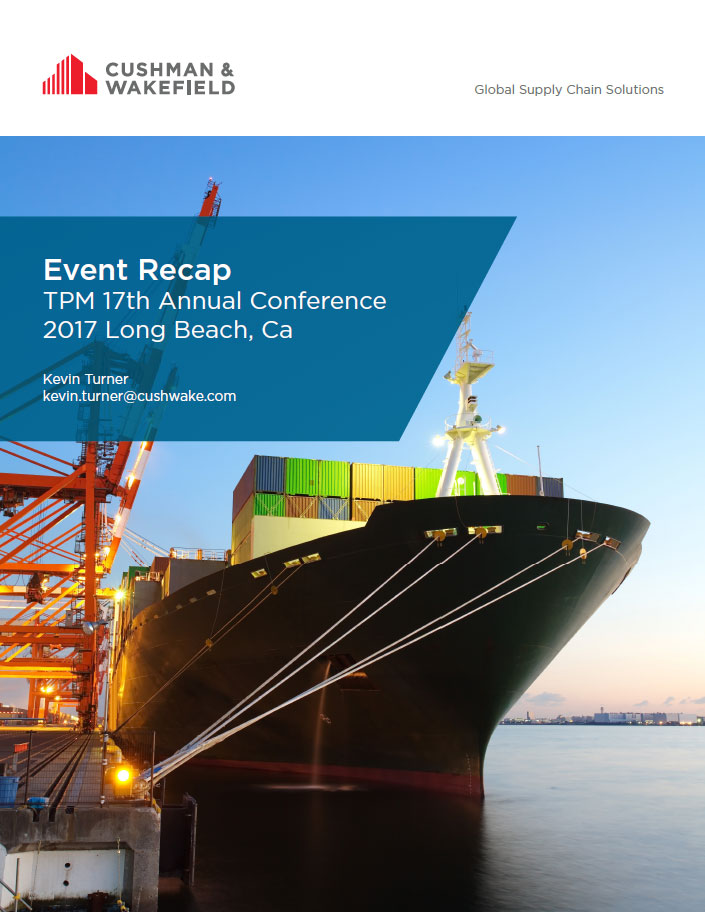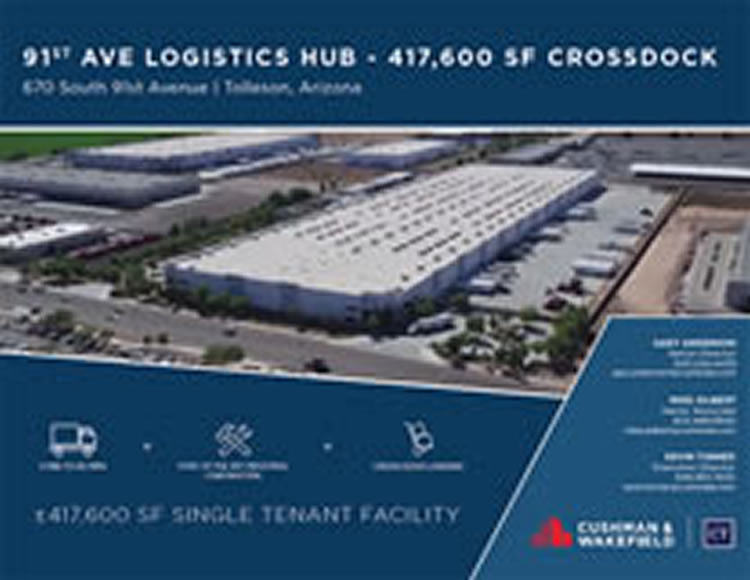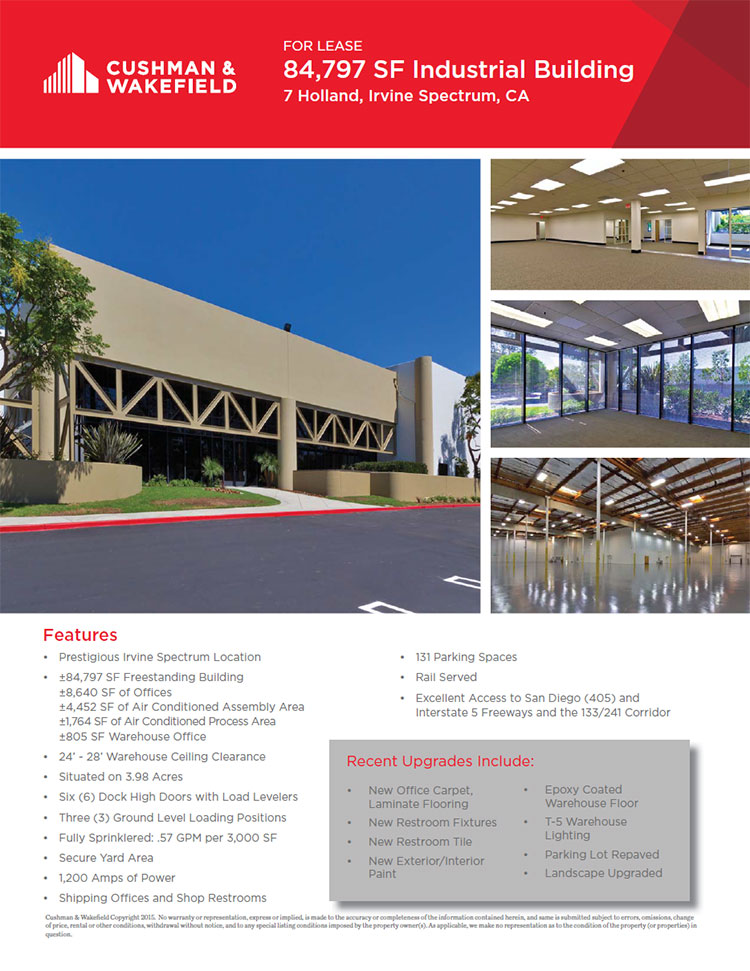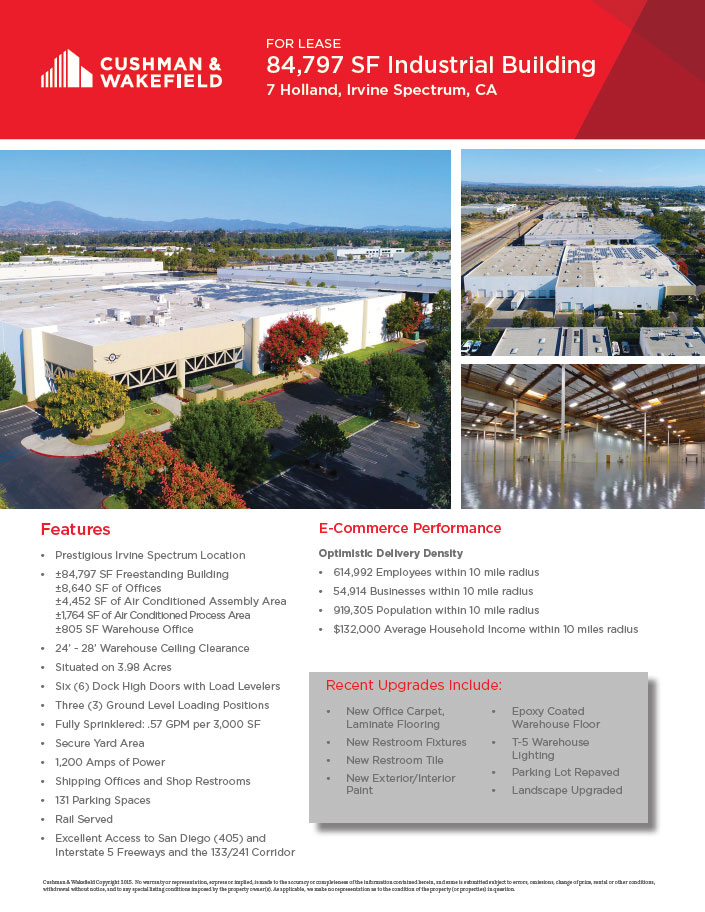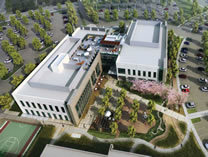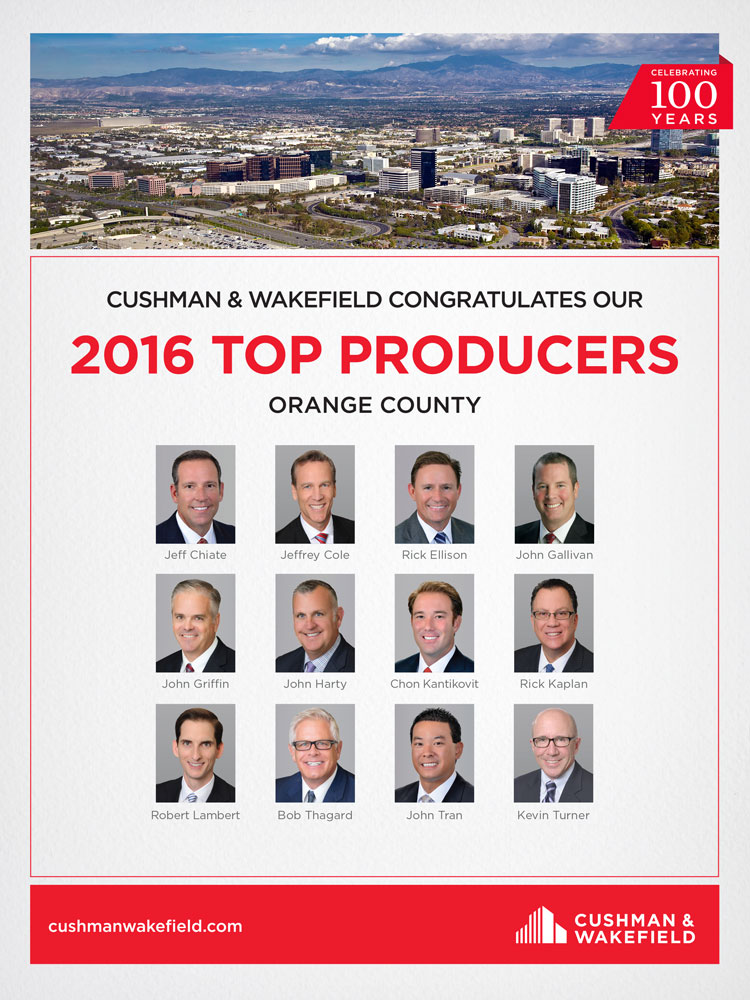 ---
---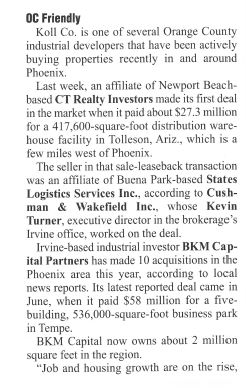 ---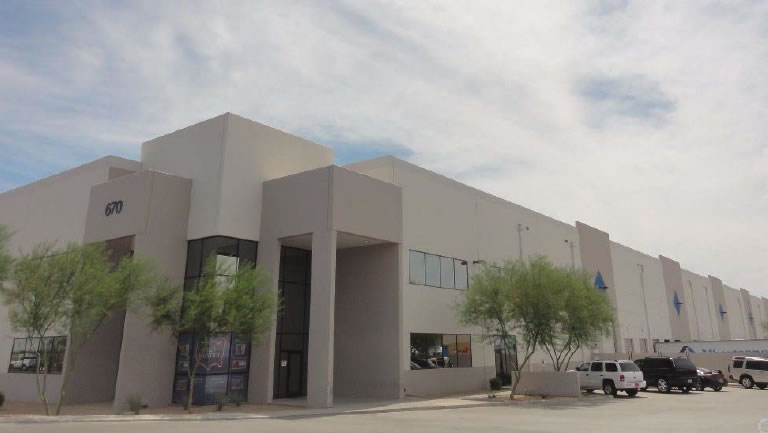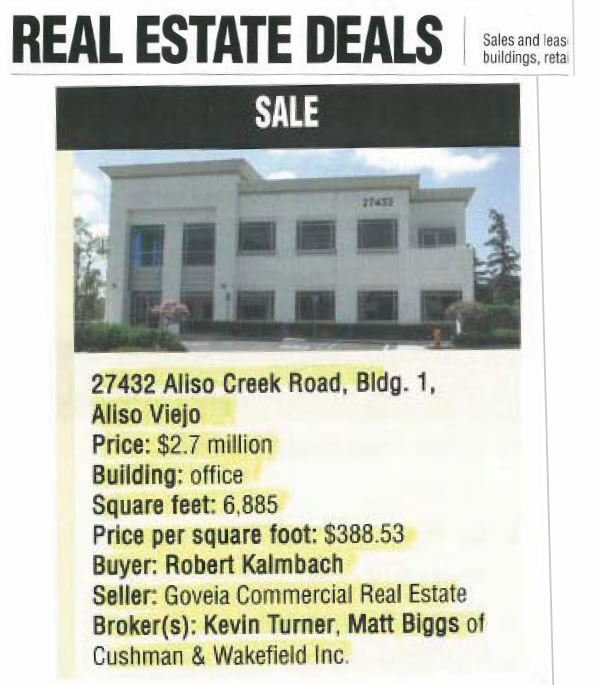 ---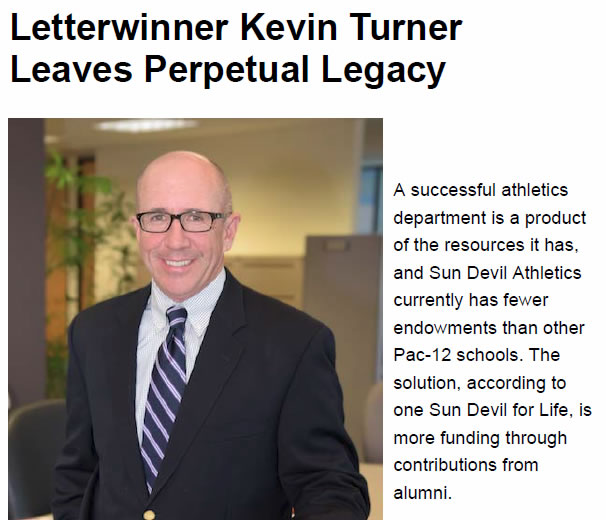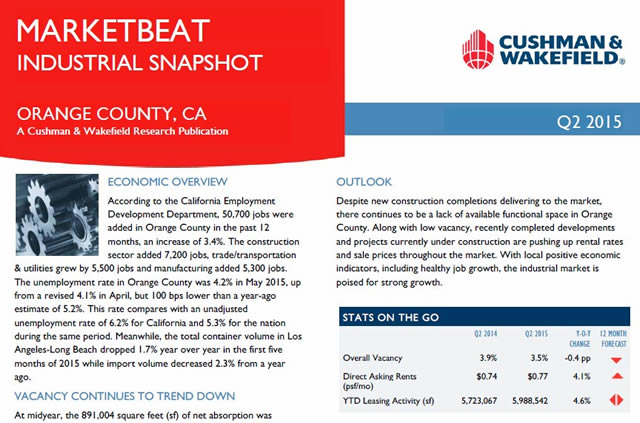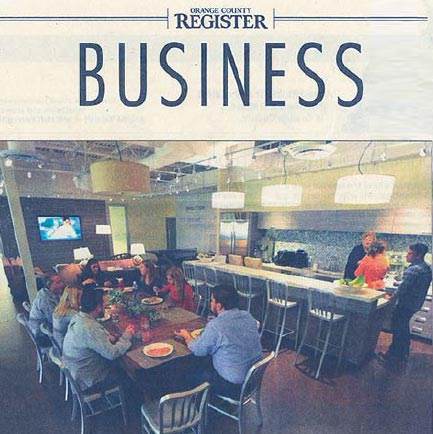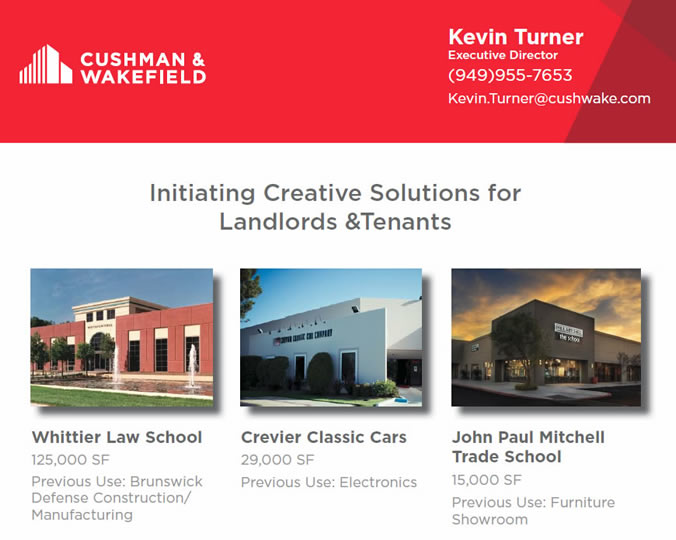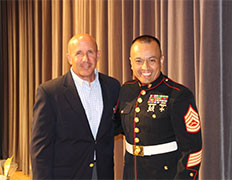 Pictured above: Kevin Turner and Sergio Jimenez

Kevin Turner Scholarship Awarded
Snapped: Voit EVP Kevin Turner and Gunnery Sgt Sergio Jimenez, USMC. Sergio's the 2014 recipient of the Kevin Turner Scholarship to support him in Cal State Long Beach's Global Logistics Specialist (GLS) program. Upon receiving the GLS professional designation in 2012, Kevin set up a scholarship fund dedicated to supporting future GLS students' career advancement in the trade and transportation industry. Sergio is currently a public affairs chief with the motion picture and TV liaison with the Marines.
View full article as seen at Bisnow.com

OC Assets Among Most 'Sought After'
COSTA MESA,CA, Mar. 6, 2014 (GLOBEST.COM) - Orange County is still among the most sought-after real estate markets in the country, according to speakers at last week's 2014 Southern California Market Forecast Luncheon here, hosted by the Institute of Real Estate Management, Orange County Chapter. The event, which drew nearly 200 industry professionals and brought together a panel of brokerage industry leaders representing the office, retail, multifamily and industrial markets, revealed positive signs across all sectors in Southern California-with Orange County as a bright spot.
"All of the basic fundamentals in Orange County continue to move in the right direction," said moderator Kurt Strasmann, senior managing director of CBRE. "Based on all of our panelists, 2014 is expected to be another strong year for the commercial real estate industry, especially in the industrial, multifamily and office sectors."
Bob Davis, SVP of NAI Capital, said that Orange County office has seen a broad-based recovery. "We have seen positive factors such as employment growth and increased leasing activity, but one area that is still problematic is time on the market, which is averaging 14 months for office space."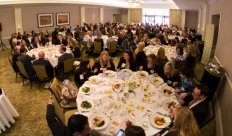 Nearly 200 industry professionals gathered to hear insight on the four main asset classes in Southern California.

Regarding the retail market, Matt Hammond, director of retail brokerage for Coreland Cos., said that "2013 was a tremendous year for Orange County retail leasing. For the first time in years, tenants were aggressively expanding and leasing quality space. Across the county, major big-box vacancies in class-A centers went from 30 down to one over the past 24 months. The question for 2014 is will these retailers now turn to the class-B and -C spaces?"
Orange County still remains a strong market for multifamily, due to increasing barriers-to-entry, said Ray Eldridge, SVP for CBRE. "Orange County will never be overbuilt, given the scarcity of remaining vacant land. Driving through Orange County can be misleading as massive land tracks, both east and west of the 405, have been gifted by the Irvine Co. for conservation. Last year, we surpassed previous peak rents of 2008. High demand will continue because of our diversified economy, low affordability of homeownership, high quality of life and excellent job opportunities."
The industrial market, another strong category for Orange County, "has more than stabilized," added Kevin Turner, EVP for Voit Real Estate Services. "In fact, we have seen approximately 17% rent growth since the market bottomed out." Turner did warn that we are not far from the stabilized peak rents of 2006. He said he sees a limit based on a formula of revenue to rents and cautioned that we may once again become victims of our own prosperity whereby tenants will be priced out of the OC market.
Strasmann asked the panelists to share some of the more interesting changes they have seen in their markets over the past year. Turner said, "We are racing toward the inflection point where it may no longer make sense to rent in OC as tenants, specifically manufacturers and distributions can only afford to pay a certain percentage for rent, taxes, insurance, maintenance and utilities based on gross revenues. Tenants are scrambling for alternative ways to accommodate growth, and as a result we are seeing a surge in demand for ownership positions to hedge against rising rents."
Davis said that while creative office has been "the buzz," it still only represents 5% of the inventory in the Orange County market. "Creative-office space is generating higher rents, but it also requires a substantial initial investment. It will be very interesting to see if the payoff is there in the long run."
Eldridge commented that most new multifamily developments will be the result of expensive and time-consuming rezoning of functionally obsolete office, industrial or retail sites. "Some of the best locations are tied to pedestrian-oriented, transit-oriented and/or infill urban areas. Recent and ongoing multifamily land-value appreciation is directly tied to scarcity, rising rents and a trend toward higher densities--all of which are increasing."
On the retail front, Hammond noted that successful retailers have embraced omni-channel market to compete with e-commerce. "No matter the size of the retailer, those who have seamlessly integrated their online business into everyday brick-and-mortar sales are experiencing positive growth. It's a holistic shopping experience--if they can't help you in the store, they go online."
View full article as seen at GlobeSt.com


Voit's Kevin Turner Shows No Signs of Letting Up
IRVINE,CA, Dec. 19, 2013 - For Kevin Turner, Senior Vice President in Voit Real Estate Services' Irvine office, the last 18 months have stood out as some of the most accomplished in his successful career. And now, at the close of the calendar year, Kevin is geared up to hit the ground running in 2014.
The success Kevin experienced this past year really gained momentum towards the end of 2012 when Kevin graduated from the Global Logistics Specialist (GLS) Professional Designation program at Cal. State Long Beach. The program is a 'ship-to-shelf' training curriculum for those involved in the international movement of goods and is the only program of its kind on the West Coast. Kevin completed the program in 12 months earning his GLS designation and gained an in-depth understanding of the supply chain and logistics industry which has, in turn, greatly enhanced his ability to provide logical, cost-effective solutions for his commercial real estate clients. Since graduating, Kevin has joined the academic faculty at CSULB with the Center for International Trade & Transportation, teaching "Effective Strategies for Warehouse Site Selection" and has also established a scholarship to support a deserving GLS student's career advancement.
"It's not only important to give back, but we also learn more by teaching," commented Kevin.
Shortly after receiving his GLS designation, Kevin finished off his most productive year yet with Voit Real Estate Services and at the beginning of 2013 was recognized as Voit's Top Broker, company-wide, for the prior year. With over 49 transactions executed and ranked the highest grossing broker at Voit in 2012 all while completing his course work for his GLS designation, Kevin was certainly at the top of his game.
"It's a team game," according to Kevin. "None of this happens without great partners, loyal clients, strategic alliances with competitors and an awesome staff at Voit."
After achieving the top Voit broker designation, Kevin was immediately back at it executing several noteworthy deals throughout 2013 including a recent impressive closeout sale of a 127,827 square-foot professional office project in Corona. He and his fellow Voit broker, Mike Hartel, Senior Vice President in Voit's Irvine office, successfully directed the sale of seven professional and medical office condominium buildings at Corona Corporate Centre totaling $18.6 million on behalf of the seller, Optimus Building Corporation.
With no sign of letting up, Kevin also recently received the SIOR Industrial Specialist designation. SIOR (Society of Industrial and Office Realtors®) is one of the leading professional commercial and industrial real estate associations and has more than 3,000 members in more than 630 cities in 34 countries. In order to receive the Industrial Specialist designation, Kevin met or exceeded all of the specific requirements including years of experience, historical income, personal recommendations from other, active members and more.
Even at the close of an extraordinary year, Kevin is excited to take on more and continues to hone and enhance his skills, providing superior service to his clients. While he expects the upcoming year will be challenging, Kevin believes many opportunities will become available especially with the banks back in business and that it's time to start building again.
About Voit Real Estate Services
Voit Real Estate Services is now an 11 office commercial real estate firm that, through its brokerage and real estate management professionals working together, provides strategic property solutions tailored to clients' needs. Combining more than 40 years of expertise in brokerage, investment advisory, financial analysis, market research, real estate management and tenant advisory, Voit provides clients with forward looking strategies that create value for their assets and portfolios.
Voit is a privately held, debt-free firm that has successfully navigated numerous market cycles since 1971 and currently employs more than 250 people. Voit has owned, developed and managed over 53 million square feet of commercial real estate, participated in $1.4 billion of construction projects and completed over $36 billion in brokerage transaction volume. Further information is available at www.voitco.com.
REAL ESTATE: Corona medical condos sold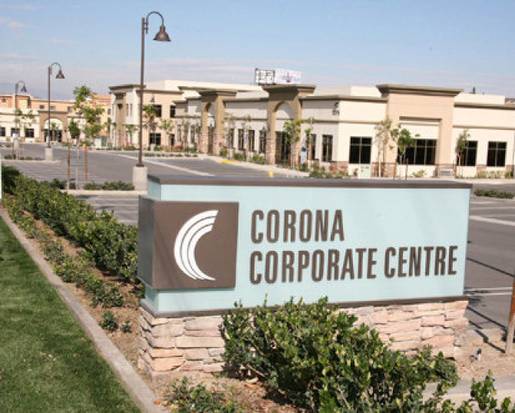 After a five-year sojourn that included a foreclosure, Corona Corporate Centre, an office condo complex, is now fully sold and occupied.
BY JACK KATZANEK | STAFF WRITER | December 09, 2013; 04:55 PM
During the building boom that led to the Great Recession, commercial real estate developers loved the prospect of leasing offices in Inland Southern California to doctors, dentists, accountants and other professionals.
And arguably no city carried the weight of this problem as much as Corona, which attracted many millions of investment dollars before the bottom fell out of the real estate market. It was a city with a growing and more affluent consumer base, with excellent freeway connections to other locales.
All of that made Corona Corporate Centre look like a very good bet when it went into escrow in 2006.
The project was a campus of seven office condominium buildings within sight of Interstate 15 and right off the Ontario Avenue exit, a major commercial area. And, after five difficult years, a few weeks ago the complex's real estate brokers announced that all the office suites have been sold and occupied by doctors, cosmetic specialists and other professionals.
It was a long trip and, in a statement, Kevin Turner, senior vice president for the Voit Real Estate Services' Irvine office, called it "an unfortunate case study of the financial collapse of 2008."
In an interview, Turner said 2008 was when construction on the project commenced, and a large medical clinic bought one building, paying $315 per square foot. But sales stalled, the property fell into foreclosure and the lender, GE Capital, eventually sold it to Optimus Building Corp., a Canadian developer. Turner said Optimus paid $9 million for the property in an all-cash deal, and Voit then set out trying to find buyers.
"We just rode the market down and went back to the basics," Turner said.
There were 39 units in all. The last 19 sold for an average cost of $130 per square foot, way below the original asking price, and at the same time Optimus made sure the property remained physically attractive.
Turner said it would have cost more to buy into a newly constructed office condo complex.
"We didn't get greedy," he said. "We probably could have pushed the price $10 or $15 more per square foot, but it was all about moving the units. Our sales pitch was that we were selling below replacement cost."
The vacancy rate for all office properties in San Bernardino and Riverside counties has been declining. Voit tracks this data and reported that 14.43 percent of all offices in the area were vacant in the third quarter. That number is down from estimates that put the vacancy level at almost 25 percent in 2010.
Corona has had one of the highest office vacancy rates of any city. Corona Summit, a Class A complex off the McKinley Avenue exit of Highway 91, sat empty for three years before it was sold and workers finally started to occupy desks there in the spring of 2012. Monster Beverage bought one building in this complex for its corporate headquarters.
The steep vacancy rate drove down lease rates across the office market, and that probably kept some doctors and other professionals who might have been interested in a condo office investment out of the market.
Eventually, Turner said, many had been working out of aging offices and saw the marked-down Corona Corporate Centre condos as a good investment and a facilities upgrade.
View full article as seen at The Press Enterprise, PE.com
CORFAC International Announces Major Fourth Quarter Commercial Real Estate Transactions
IRVINE,CA, Dec. 4, 2013 (GLOBE NEWSWIRE) - Kevin Turner, Michael Hartel and Angela Watford of Voit Real Estate Services/CORFAC International's Irvine office successfully directed the sale of seven professional and medical office condominium buildings at Corona Corporate Centre totaling $18.6 million and 127,827 square-feet on behalf of the seller, Optimus Building Corporation. Twenty separate buyers, which included medical, dental and cosmetic specialists and professional office users, purchased the cold-shell units. The property is located at 2045-2097 Compton Avenue in Corona.

Made in America Trend Drives Industrial Demand
By Kevin Turner, SVP and global logistics specialist at Voit Real Estate Services | Commentary
IRVINE, CA-It's clear that "made in America" is an evolving trend affecting the industrial real estate market today.
As manufacturers continue to weigh the costs of moving goods in today's market, increases in labor, shipping, and fuel expenses are driving many global companies to bring production back to North America. The result is an increasing demand for industrial real estate in Southern California.
Manufacturers and distributors are now increasingly seeking factory, warehouse and distribution space in Los Angeles, Orange County, and the Inland Empire in order to utilize local ports, as well as expanding class one double track rails from L.A. to the East coast.
While lower-end consumer products, such as apparel and toys, are still manufactured overseas, production of other items, such as instrumentation, devices, machinery and equipment, is moving closer to end users in the US. Much of this is because there is a lower tolerance for error when it comes to these products, which require process manufacturing. For example, the production of surgical equipment, such as laser technology for cataract surgery, must be extremely precise, or the repercussions could be enormous.
In addition to more precise manufacturing, however, there is also a huge benefit to manufacturers with regard to time and cost. By reducing products' time in transit, manufacturers are lowering costs, while moving physical goods and intellectual property closer to end users.
This is especially important in the current market, in which ecommerce fulfillment has become the norm. Traditionally, manufacturers would build a distribution center and analyze palate positions, then ship product to 10 customers in 200 locations, with perhaps 100 unique products. Today, manufacturers are tasked with same day and next day fulfillment for anywhere from 10,000 to a million unique products, often shipping to up to 25 million customers per year.
For these manufacturers, it's imperative to have a real estate professional who can assist with analyzing technology and locational considerations against inbound and outbound customer bases in order to make the right decisions.
The fact is, if we as commercial real estate professionals are doing are jobs well, we actually want to reduce the footprint of our industrial clients. This may appear counterintuitive to what people in our industry usually strive to do, which is to sell more square footage. However, by developing a deeper understanding of global logistics, we can advise our clients on innovative ways to minimize on-hand inventory, which reduces their need for fixed real estate assets.
In addition to advising clients, commercial real estate professionals who are well educated on supply chain issues will also be better able to identify the benefits and detriments of each location, specifically as they relate to moving inbound goods into the supply chain for the end customer.
Depending on the product being manufactured or distributed, there are various modalities to transport goods, and by deepening our knowledge of ocean, air, and intermodal transport, we are better able to establish the right solutions, depending on the service metrics our clients are trying to achieve.
This leads to better alignment with all who are involved in real estate deal making, including the executive management team, the operations team on both the transportation and distribution side, and the manufacturing team.
As manufacturing and distribution continues to expand and return to North America, industrial real estate professionals should seek educational opportunities to better understand our clients' business from raw products to manufacturing to finished goods. With that understanding, we will ultimately be able to deliver better solutions.
Kevin Turner is a SVP and global logistics specialist at Voit Real Estate Services. The views expressed in this column are the author's own.
View full article as seen at GlobeSt.com



MARKET HIGHLIGHTS, SEPTEMBER 2012
ORANGE COUNTY
By Kevin Turner, Matt Didier, Joe Leon and Mathew Mousavi
Orange County is still one of the West's most desirable submarkets, and its high barriers to entry are only driving up demand — and price. The multifamily market is doing very well, especially among Millenials, and retailers are snatching up spaces just as quickly as they become available.
INDUSTRIAL
Turner
The Orange County industrial market continues to demonstrate its resilience. The market has posted more than 4 million square feet of positive absorption since 2010, and it continues to display positive rent and sale price growth, along with decreasing vacancies. Demand for mid-sized industrial space remains strong, while interest in larger, big-box product is on the rise.
Industrial consolidation has become a clear trend in Orange County and throughout Southern California. In the past 24 months, more than 100 transactions have closed in Orange County in the 50,000-square-foot-and-above range, which is considered big box inventory in the market. In line with this trend, more than 30 transactions in the 500,000-square-foot-and-above range have closed in the Inland Empire during the same period.
A portion of this demand for large space is the result of an increase in domestic manufacturing and near-shoring, which is a direct correlation to the recent spike in Chinese labor costs. With free trade agreements with Canada and Mexico, as well as the KORUS agreement with South Korea, more home electronics will begin to be manufactured in South Korea and Mexico as companies relocate manufacturing operations.
For example, Visio recently made a significant investment to expand its planned operations in Mexico. As manufacturing moves toward Mexico and Canada, more companies will seek industrial product in Orange County and throughout Southern California.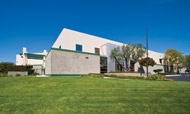 More than 100 transactions have closed in Orange County in the
50,000-square-foot-and-above range in the past 24 months. This includes
a new 5-year lease of an 85,000-square-foot industrial building at
2900 McCabe Way in Irvine that is owned by Crown Associates Realty.
The core of the Orange County manufacturing market lies in pharmaceutical, medical device and instrumentation. The intellectual talent pool in this market is second to none as it relates to high-tech and manufacturing expertise, as well as process management.
With that in mind, the challenge in Orange County is supply. As a two-tiered market, Orange County industrial product can typically be classified as Class A and "everything else." While Class A product is always in play regardless of market conditions, there is a limited supply of these available spaces.
In addition, the availability of land is highly constrained in Orange County. Infill sites only occasionally become available, providing the opportunity for a new building to be developed.
This lack of supply will drive industrial rents and sale prices up in Orange County, provided that the U.S. economy continues its recovery.
The fragility of the economy is still evident, even as market conditions steadily improve. Corporate and mom-and-pop users alike continue to behave conservatively, and uncertainty remains as the country awaits the upcoming election. That said, once accretive job growth is underway, and the GDP growth increases to above 3 percent, Orange County will experience a substantial spike in industrial rents and the market will be able to fully recover.
– Kevin Turner, senior vice president, Voit Real Estate Services' Irvine office
View full article as seen in Western Real Estate Business.
RealShare REAL ESTATE 2012, March 22nd in Los Angeles
NEWPORT BEACH, CA-"The economic outlook is the best it has been in the last eight years," according to Christopher Thornberg, a founding principal of Beacon Economics and one of California's leading economic forecasters. Thornberg served as the keynote speaker, addressing the more than 150 commercial real estate and banking executives that gathered at the Pacific Club in Newport Beach on Thursday for Voit's Economic Forecast 2012.
Thornberg's address focused on the factors contributing to his positive outlook for 2012. The positive numbers included the fact that consumer households now have the least debt they've had since 1993. "Consumer confidence is a lagging indicator," Thornberg said. "It is a sentiment, not an economic data report."
According to Thornberg, "The facts are that consumer delinquencies are plummeting, industrial production is growing, durable orders are rising and imports and exports are reaching parity. In 2011, California had an 8% growth in taxable sales, hotel occupancy increased, exports grew by 30% and employment is up," he said.
Thornberg added that "While the recession did technically end two years ago, we now have the fundamentals in place that create the setting for the increase we are seeing in the stock market. In 2012, all of you will be happier than you were in 2011."
As GlobeSt.com exclusively reported last week, Voit's Orange County numbers are on track with Thornberg's positive indicators. In the fourth quarter of 2011, the Orange County office market displayed positive net absorption for the sixth consecutive quarter, posting 819,510 square feet—the most occupation of space since the first quarter of 2007, said Voit. According to the fourth quarter market report, activity volume reached its highest level since 2006, and both vacancy and availability decreased from the previous quarter.
At the event, John Harty, who works in Voit's Irvine office, pointed out that "New office product construction begins when vacancy is between 12% and 13%...In order to get to this lower vacancy from the current 14.97% office vacancy rate, Orange County will need to add approximately 11,000 to 17,000 new jobs."
In addition, Harty said, "rents need to increase approximately 30% to support new, more expensive construction. The trigger for this is likely to be an office user need that exceeds the size of current space available. Some user will be willing to pay more for their new space, driving up rents in the market, which will encourage additional construction to begin."
Voit's Kevin Turner then provided insight on Orange County's industrial market.
"Orange County's industrial users average 15 employees, generally requiring an average of 7,600 square feet," said Turner, who also works in Voit's Irvine office. "In 2011, 85% of Orange County's 2,300 transactions were for product under 10,000 square feet. But in 2011, there were actually 50 deals above 50,000 square feet. In the large-space 100,000 square feet-plus, availability is down to just two percent countywide. Based on the decreasing availability, after nine consecutive quarters of rents declining, we experienced our first rental growth in the fourth quarter of 2011. We see that number climbing an additional $.04 in 2012."
On the industrial sales side, Turner said that "with no available land for new construction, investment opportunities are very strong, but extremely limited."
Mild recovery seen in commercial property
By JONATHAN LANSNER and JEFF COLLINS / THE ORANGE COUNTY REGISTER
Published: Nov. 23, 2011
Commercial landlords will see falling vacancies and rising rents over the next two years, but the recovery will be mild in all but the apartment sector, according to the National Association of Realtors U.S. commercial real estate forecast.
The forecast was during NAR's recent conference in Anaheim. According to the national forecast:
•Office vacancies will fall, but remain the highest of all the commercial sectors through 2013. The vacancy rate is projected to fall to 16.3 percent in 2012, down from 16.6 percent in the third quarter of this year. In 2013, office vacancies will drop further to 15.9 percent. Office rends are projected to increase 1.7 percent in 2012 and 2.4 percent in 2013.
•Industrial vacancies will drop from 12.7 percent this past summer to 11.9 percent in 2012 and 11.1 percent in 2013. Industrial rents are projected to increase 1.8 percent in 2012 and 2.3 percent in 2013.
Empire Academy will lease this 12,000 SF office property located at 1544 E. Warner Avenue in Irvine, Calif.
•Retail vacancies will drop from 12.9 percent this past summer to 12.2 percent in 2012 and 11 percent in 2013. Rents are projected to rise 0.7 percent in 2012 and 1.4 percent in 2013.
•Apartment vacancies will drop from 5.5 percent this past summer to 4.6 percent in 2012 and 4.5 percent in 2013, while apartment rents are expected to go up 3.5 percent next year and 3.8 percent more in 2013.
NAR Chief Economist Lawrence Yun based his forecast on projections that the U.S. economy will avoid recession and add 3 million to 4 million jobs in the next two years.
Prices for sales of commercial real estate buildings has bottomed out, Yun said. He noted also that the stock market has largely recovered from the 2008 crash and that corporations have huge cash reserves. That's coupled with expanding international trade and bargain shopping by international investors who are buying homes and buildings here.
Still, Yun said, the economy is underperforming. Depressed condition in financial and small business sectors also will continue to negatively impact commercial real estate, he said.
STUCK ON 20
California ranked 20th in SiteSelection.com's annual ranking of state business climates for new factories and offices -- the same as last year's results.
California did make some progress -- it was ranked 11th in SiteSelection.com's survey of executive's impressions of a state for business relocation. That was up from 20th a year ago. The survey counts for half of the ranking score.
State-by-state data, which makes up the other half of the rankings wasn't as kind to California:
•2010 new plants: California ranked 15th.
•New plants per capita: California ranked 47th.
•2011 new plants: California ranked 9th.
•Competitiveness: California ranked 37th.
•Tax climate: California ranked 49th.
Overall winner was Texas, followed by Georgia, North Carolina, Virginia and South Carolina.
MAKE-UP LEASE
The Empire Academy make-up artistry school signed a 10-year, $1.4 million lease for a 12,000 square feet building at 1544 E. Warner Avenue in Irvine. Empire is relocating from Costa Mesa and will fill their new home building.
Michael Hartel of broker Voit Real Estate Services that represented the landlord, REEF Brookhollow: "Vocational schools are excellent tenants, especially in this economy, when people are working to re-train themselves in order to find new jobs."
THE DEAL SHEET

Bisnow.com
"The Deal Sheet"
August 16, 2011
Featured: Kevin Turner and Michael Hartel
A bidding war among tenants for an 85k SF industrial space? You heard that right. It happened at this new manufacturing facility at 2900 McCabe Way in Irvine. (And no, lawn bowlers weren't among them.)
Voluspa, a candle and home fragrance manufacturer, leased the building from Crown Associates Realty, nearly tripling its current space. Landlord reps Kevin Turner and Michael Hartel of Voit Real Estate Services generated multiple offers in the building's first 45 days on the market, then advised the client to wait it out as the would-be tenants competed for the space. (Why can't every transaction work like that?) Voluspa beat out three other bidders to win the lease. According to Kevin, the "fierce competition" underscores the Orange County industrial market's recovery, as shrinking vacancies leave tenants with fewer options in the 100k SF range. BTW, fans of Voluspa's candles include celebs like Megan Fox, Victoria Beckham, and Halle Berry.
Voluspa Lights Up 84,800 SF
Makes High-End Candles Here, Sells to Hollywood, Jet Set By Mark Mueller Sunday, August 14, 2011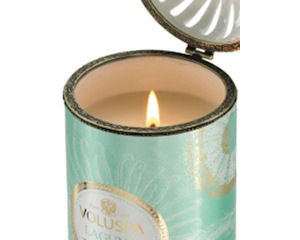 Upscale candle and fragrance maker Voluspa is moving its headquarters and operations from Lake Forest to Irvine after signing a lease for a high-profile industrial building near John Wayne Airport.
The fast-growing company, which was also operated under the Flame & Wax Inc. name, inked a lease to take over 2900 McCabe Way. The 84,816-square-foot building in Irvine is just off the east side of San Diego (I-405) Freeway and Jamboree Road.
The move nearly triples Voluspa's space.
The building, owned by Beverly Hills-based Crown Associates Realty, was previously used by Costa Mesa-based surfwear maker Hurley International LLC as a distribution center.
The five-year deal is valued at just under $3 million, according to brokers with the Irvine office of Voit Real Estate Services Inc., which represented Crown.
That works out to monthly rents of about 58 cents per square foot.
Voluspa is expected to move to its new location by October.
Voluspa's fragrance-laden candles have gotten plenty of exposure in style and entertainment magazines, and have been linked to a number of celebrities.
Celebrities who've been sighted using the company's products include Megan Fox, Victoria Beckham and Halle Berry, among dozens of others, according to Voluspa's website.
The company, named for the "Scandinavian goddess of wisdom," had been operating out of approximately 27,500 square feet of space in Lake Forest since 2006.
All the company's candles are made on site, and increasingly busy operations at Voluspa's warehouse are said to have cramped operations. The company's yard area often fills to capacity with materials, said Guy Laferrara, chief executive and partner with Lee & Associates-Irvine, which represented Voluspa in the lease.
The new location, which includes about 9,000 square feet for offices and some lab space, should give the company room to expand operations, Laferrara said.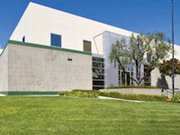 2900 McCabe: KB Home considered residential development on site before recession
The company employed about 50 workers as of early last year.
Voluspa has been averaging sales growth of roughly 20% the past few years. Its sales in 2009 were estimated at about $10 million.
The company sells candles that run from $15 to $25. They're sold at boutique retailers such as Fred Segal of Los Angeles, and a roster of larger chains that includes New York-based Bloomingdales Inc. and Saks Fifth Avenue, and Anthropologie, a unit of Urban Outfit-ters Inc. in Philadelphia.
House Blend
The candles use a coconut wax blend and are designed not to smoke when burning. They can cost twice as much as competitors' products, but they'll burn twice as long, the company says.
Voluspa's founders, Troy and Traci Arntsen, created their first scented candle in their Costa Mesa kitchen in 1999.
He is the company's chief executive.
She serves as creative director and has come up with more than 200 scents for Voluspa.
Along with candles, the company's been expanding the past few years into a line of home fragrances.
The company outbid a number of other potential tenants in order to grab the Irvine space, according to Kevin Turner, a senior vice president with Voit who worked on the deal with colleague Michael Hartel.
Increased Demand
Hurley, a unit of Nike Inc., left the building earlier this year, consolidating its warehouse operations in an Inland Empire building already leased by Nike.
After Hurley left, the building was marketed for about 45 days and received six proposals, according to Turner.
That's a reflection of the increased demand of late for buildings in the 100,000-square-foot range, especially in the airport area, Turner said.
Crown Associates has owned the McCabe property since the early 1990s. At the peak of the last housing boom, the site was eyed as a possible residential development by Los Angeles-based KB Home.
Tower Tale
KB Home filed plans with the city of Irvine to develop 2900 McCabe, a 314-home project that would have included a 16-story tower.
Those plans were quickly shelved as the housing market soured, and by 2007 KB Home had fallen out of escrow to buy the 4-acre site.
Crown Associates earlier this year was marketing the existing industrial building for sale, at a price of about $14.8 million, or $175 per square foot, according to data from CoStar Group Inc.
The building's no longer up for sale, according to Turner.


Affinity Medical Technologies moves to Costa Mesa
The company has signed a 10-year, $4.8 million lease at 3545
Harbor Blvd.By OC METRO staff - Published: April 01, 2011 10:15 AM
Affinity Medical Technologies has relocated from Irvine and expanded in a new
42,453-square-foot research and development space in Costa Mesa.

The medical device manufacturer has inked a 10-year, $4.8 million lease at 3545 Harbor Blvd. The new space is double the size of its former building, according to Voit Real Estate Services, which represented Affinity in the deal. (The lessor, C.J. Segerstrom & Sons, represented itself.)

"Voit worked with Affinity Medical for 15 months in order to secure a well-located, high image building that provides Affinity the ability to manufacture its medical products," said Kevin Turner, senior vice president of Voit's Irvine office. "In this instance, Voit identified the property and successfully completed the lease before the property came to market."

Affinity Medical Technologies makes custom medical cables, connectors and interconnect systems for computer platforms found in inpatient and outpatient services. Voit is a commercial real estate firm that has owned, developed and managed more than 45 million square feet of space since its inception in 1971.




http://www.ocbj.com/news/2011/mar/20/real-estate-deals/